"LightGarden be pure magic"
- fRoots 2019
"Lightgarden were a triumph at The Village Pump Folk Club. A wide variety of music and instruments all played brilliantly, some interesting facial expressions and dancing styles plus some awful jokes. Rob managed to play a mandolin with a string missing and still make it sound good. The Mongolian overtone singing is amazing! Hope they come back to see us again."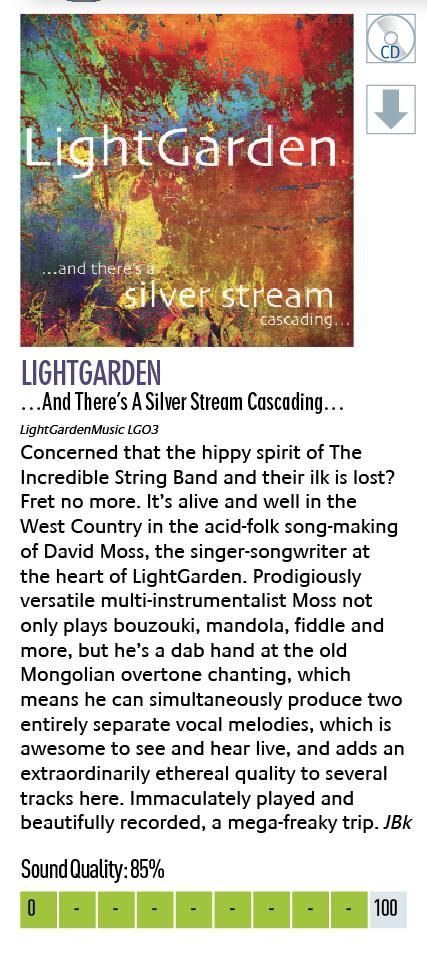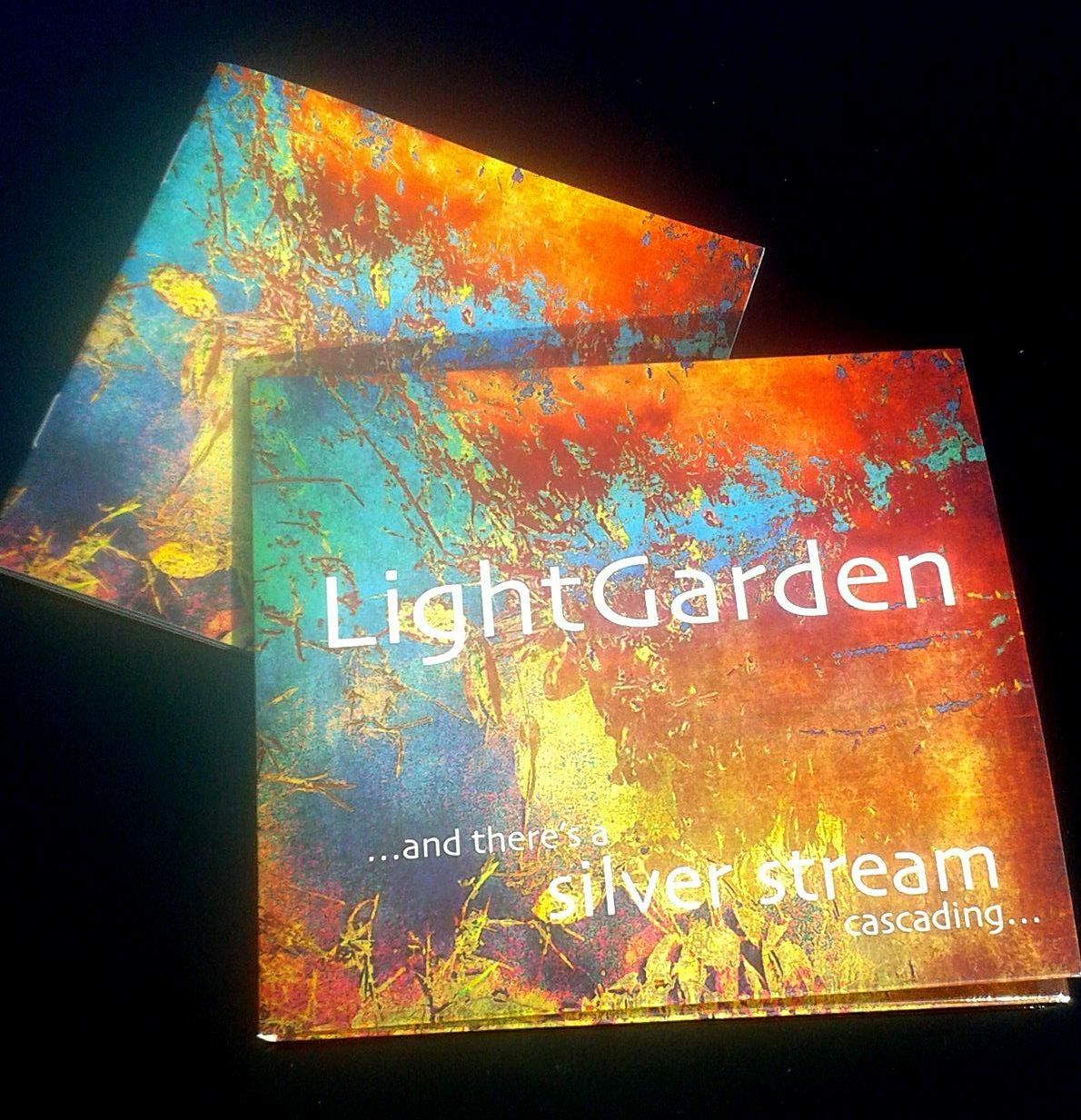 CD Review: "...and there's a Silver Stream Cascading", September 2018
The core of Bath-based LightGarden is in essence the creative musical partnership of two kindred spirits, David Moss and Masha Kästner, latterly expanded, by the addition of Dave McKeown (of The Joyce Gang) and Rob Colquhoun, to make a four-piece outfit. All four musicians have been active variously on the folk, jazz and rock music scenes for some years. Singer and musician David Moss is the guiding force here, and those with long memories may recall him as one third of the gently iconoclastic and wildly inventive North-Yorkshire-based trio Banoffi for close on a decade from the late '90s through to 2004. David's hauntingly beautiful and individual voice takes legitimate centre-stage in the sound picture – rightfully enough, since the album's six songs are all his own compositions – but when chanting overtones it's deployed as an additional, fascinating quasi-instrumental colour. The unique LightGarden instrumental complement provides an unusually varied and mesmerising sound, balancing David's fiddle, viola, bouzouki, mandolin and mandola with Masha's harmonium, piano and organ, Dave's clarinet and sax and Rob's acoustic and electric guitars, while guest musician Jacob Myles Tyghe adds bass to four tracks. The uncluttered and finely registered recording hands out the spotlight or opens out when required to reveal delightful and unexpected textural subtleties, while always keeping the basic elements firmly in focus for the listener.
Although containing recognisable LightGarden qualities and stylistic hallmarks, notably those stemming from David's own personal musical identity and Masha's delicately supportive augmentation, this new album is quite different from its predecessor, 2009's more intimate and largely ruminative Travelling Light. But there's both continuity and adventure in its own original and special brand of acid-/psych-folk, which once again encompasses a naturally eclectic range of inspirations emanating from all manner of world folk musical traditions (albeit primarily Celtic, Eastern European, Middle-Eastern and Oriental), cultures and timelines. In this regard I've always found LightGarden and its "ancestor" Banoffi to embody the positive and encouragingly experimental values and virtues of early-to-mid-period ISB and other trip-folk-underground acts like Forest and Tea & Symphony. At the same time, though, LightGarden's music is very accessible, and not just on its own terms, being both richly melodic and convivially life-affirming and exhilarating.
Opening track Bluebells (a reworking of a favourite Banoffi number) is a prime example of the highly evocative and slightly dreamy side of LightGarden, sporting idyllic rustic-pastoral atmospherics, and although the musical ambience seems to carry through into Shifting Sands the darker questioning tone of the lyric seems to reflect the passage of the intervening two decades somehow. Old Red Rowan takes us more into the realm of jazzsome folksy homily-cum-spiritual (closely matching its philosophical lyric), whereas Special Wine positively sways with romantic obsession and an eerily woozy wordless vocal before yielding to a deft guitar solo. The eight-minute eastern-inflected extravaganza Sophia harks back to Banoffi mode, but also incorporates ethereal overtones, sinuous clarinet arabesques and pulsing bass within its yearning, plangent soundscape. The softly intense, quiversome Away, ostensibly an address to a child (perhaps), is a bit of an enigma, but an intriguing and arresting one (complete with a disturbing childhood-memory carousel-interlude); it literally takes the breath away, and I've had the track on repeat play.
The album's four instrumentals range pretty widely too, from the limpid, pensive miniature Walking In The Dark (its rippling mando-tones put me in mind of Dando Shaft and baroque arpeggios) to the almost onomatopoeic jazzy piano-and-sax improv of Summer Rain, the aromatic abandon of Russo-middle-eastern hybrid Minka and the charming triple-time vignette San Benedetto that pairs the timbres of mandolin and church-organ rather in the manner of an episode from the ISB's Be Glad movie soundtrack, with the backdrop rounded out by a viola counterpoint that eventually increases in prominence before reaching an apotheosis in a Mike Oldfield-style guitar solo.
As if LightGarden's wonderful music were not enough, … the disc is most attractively packaged, with design incorporating reproductions of paintings mainly by David himself and presentation including booklet giving full lyrics and credits. So… And There's A Silver Stream Cascading … is one of those rare albums that scores maximum points for its enlightened, open-minded music-making and its deeply joyous invocation of the magic powers of fresh invention.
David Kidman - FATEA
Live review, Bath Fringe 2010: LightGarden
...what followed was a seriously magical set of original acoustic music; captivating throughout. Their absolute confidence in their material and equally strong commitment to performance drew the audience into an intimacy well-suited to the music. Each song's powerful simple combinations of strings and organ underplayed their elusive and personably poetic lyrics in a way that recalled the early Incredible String Band, not least for David's fluting folk-tenor voice and overall sense of hippy seriousness. This is after all a man who can say: "I'd been Mongolian overtone chanting with some Hare Krishnas at Glastonbury festival" and make it sound everyday. Those overtones were an astounding ingredient in themselves, effortlessly weaving an ethereal dimension into the music. They were especially effective when Masha was standing at the church's massive organ pulling out the stops to make a Laurie Anderson drone while intoning ancient Persian poetry. This wonderful and unique performance deserved starlight, a flickering camp fire and at least another fifty people but, nevertheless, lacked nothing at all.

Tony Benjamin

CD review "Travelling Light" - The Link
David Moss (ex-Banoffi) was a PRS Foundation ATOM award winner recently - a prestigious annual award which celebrates and rewards the best "originators of music" working in the UK. And this album from LighGarden is the result. Dave plays Bouzouki, Mandolin, Fiddle, Viola, Cello and Guitar, Masha Kaestner, from East Germany, features on Piano, Harmonium, Church Organ, Piano Bass, Accordeon and Chimes. Both provide vocals and 'vocal overtones' - extraordinary throat singing where two notes are produced at once: a drone and the flute like harmonics above - an ancient Mongolian method used for healing and meditation. Unless you witness LightGarden performing you'd be forgiven for thinking this extraordinary sound was produced through use of some electronic effect. Steve Blakeburn contributes Dumbek and percussion on 3 of the 10 tracks presented on this new album. LightGarden's influences are wide ranging - from celtic timelessness to Eastern Europe to the Middle-East to North Africa. Musicianship of a very high order. "A journey of the heart, towards the heart; a jouney back home." This is an outstanding album and a timely reminder of the magic inherent in the production of music. More info at
https://www.facebook.com/pages/LightGarden/149417618468034?ref=hl
, 
www.myspace.com/lgarden
with streaming possibilities or
www.reverbnation/lightgarden
or getting to chat to LightGarden on Facebook. The 8 minute final track is taken from original text by Jalalud'din Rumi, translated by Shahram Shiva from "Rumi: Thief of Sleep". Exceptional. -
Pete Bell
CD review "Travelling Light" - Stirrings
CD review "Travelling Light" - Acoustic Mag.
Live review: York, Black Swan Folk Club 2008